How to reset Honda CR-V Stereo Code | Anyone Can Do It!
Almost all Honda radios have their anti-theft system that, if the battery is disconnected, will ask the owner or user to enter a five-digit code so that the stereo or Cd player will work again.
When you purchase a car, the dealer of the company should give you the Honda CRV Radio Code. It may be written in front of your user's manual.
But if you lost your stereo code, you need to contact the dealer of the car who sold it to you and ask them to look the auto-radio code for you.
If the power of the battery to the radio was lost altogether, all the presets of your station will be deleted. So you have to find your preferred stations in the audio system and reprogram it again.

When the battery of your car died, it will definitely lock the radio up. This will prevent the thefts in using your stereo or GPS system. Resetting a locked Honda crv stereo is fairly simple, just keep reading I will show you exactly how to unlock your CR-V Honda stereo code for free.
Are You Sure That Your Honda Car Stereo Requires A Code?
If it does, once power has been restored to your vehicle, you will see a flashing message on the screen indicating that you must enter a special code to disable the anti-theft system. The message may be the word "Code".
Do You Have The Radio Code?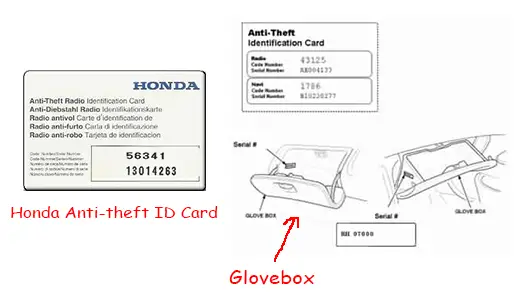 Look for the document of the car. When you bought your Honda, you should have received a small document about the size of a credit card along with the owner's manual. You will find the code printed on that ID card, so all you have to do is enter the PIN code to reset your Honda CR-V.
The five or six digit secret number can also be written on the radio itself (so you need to remove the unit from the dashboard to see). Also, you have to check inside your Glovebox. The code can be listed on a small white sticker inside it (will be labeled "Anti-Theft Radio Code").
If you find it, just enter it using the preset buttons. You can refer to the code entry section for more details. But if you lost your honda crv 2006 radio code and can't find it, don't worry. You can still recover it. But first you'll need your radio serial number to calculate the code.
How To Find The Honda CR-V Radio Serial Number?
As I said before, if you lost your car audio system or car navigation code, you must find the unit's serial number to be able to generate the code from it. So here are two options that will help you :
The first way is that you pull your car radio and then look up the serial number on the side or the rear, it's probably on a sticker somewhere on it.
The second is much easier, you put your key in the ignition and then, turn it on to the accessory position. Next you hold down preset key number 1 and key number 6 and then press the power button once, and a second time. You will see a digital serial on the display, for example U7592 L3084. Ignore this U and L, then note all 8 digits on a piece of paper, we will need it in the next step.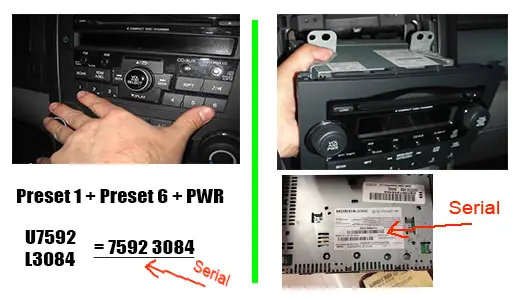 Honda CRV Stereo Code Recovery :
The next thing you want to do after getting your serial, is basically just call your local dealership and explain the situation, try to sound as legitimate as you can, so they don't think you stole the radio or something. But if you don't succeed at first, try different dealerships in different cities, different states until it works. Don't let them bring you the car in and then charge you a $100 for one hour labor fee or whatever to give you the code, ok!!
Wait, this is not all, I have another trick for you to recover your Honda CR-V code! In fact, you can get it online. Yes, just go to this web page and fill the online form. They will send you the code by mail. Take a look at this video tutorial, I will show you exactly how to do it :
Now I Have The CR-V Code, How Can I Enter It To The Radio?
Finally, after all these steps, you have your CRV stereo code. All you have to do now is to enter it to the car radio unit. You can discover this in the Honda code entry tutorial, where I explain by video what you need to do, step by step.
Final Word And Some Suggestions :
Congratulations, today you learned how to reset your Honda CR-V stereo code. Don't forget to note it in a safe place, so you can refer to it any time you need it, do it NOW!! Also, it is a good idea to bookmark this page to easily find it in case you will need help with Honda CRV car stereo code recovery in the future. Normally this Tutorial goes with CR-V 2009, 2011, 2012 and almost any other model.
If you have any problems or Honda CRV radio code error, feel free to post comments or email me and I will be more than happy to help. Don't forget to like, share and sign up for the newsletter to stay updated with the latest Honda automotive technology.